Introduction
You can log into your Privyr account and have data synced across multiple devices, allowing for easy lead management and coordination across your smartphones, tablets, laptops, and desktop computers.
Accessing Privyr on Multiple Devices
Privyr can be accessed across unlimited devices at the same time via the Privyr mobile app and desktop web version.
MOBILE APP
To use your Privyr account on another mobile device, simply download the Privyr app from http://privyr.com/app/download and login using your registered email address, then enter the one-time password (OTP) sent via email.
DESKTOP
You may also log into your Privyr account on your laptop, tablet, or computer via our desktop web access at https://www.privyr.com/login.
Please note that some of the features in the mobile app may not be available on the desktop yet. While we're constantly updating the web version with new enhancements, you can also use the 'View on Phone' feature when viewing a client to send a notification to your phone and quickly transition to the mobile app to perform actions.
Phone Number & Email Address on Account vs. Device
Phone Number & Email Registered to Privyr Account
When registering for a Privyr account, you'll be prompted to provide an email address and phone number. These will primarily be used to verify and log into your account, and for sending important communications such as new lead alerts, feature updates, and account invoices.
Your contact details are also featured on your Files and Pages to build a stronger brand presence and relationship with your clients, making it easy for them to quickly get in touch with you.
Phone Number & Email Used to Contact Leads
Privyr uses the default phone, mail, and messenger application on each mobile phone, so all calls, emails and messages will be sent from the phone number and email account of the respective device.
The Privyr app doesn't automatically send emails or messages on your behalf, but rather opens the phone's default email app, SMS or WhatsApp conversation with the lead and pre-fills the personalised message and/or content. You'll still have the chance to review before clicking SEND, and the full history will always be available in your email account, SMS or WhatsApp chat. 
It's exactly as if you had manually opened the mail app to compose a new email or the SMS / WhatsApp conversation to type the message, except that Privyr helped you do it in one click. 
If you have multiple versions of WhatsApp running your device, check out our guide on using Privyr with WhatsApp and WhatsApp Business.
Logging Out All Devices
Privyr gives you complete control over the access of your Privyr account at all times. If you've lost track of the devices you've previously logged into, you can simply one-click 'Log Out All Devices' and re-login on the devices of your choice.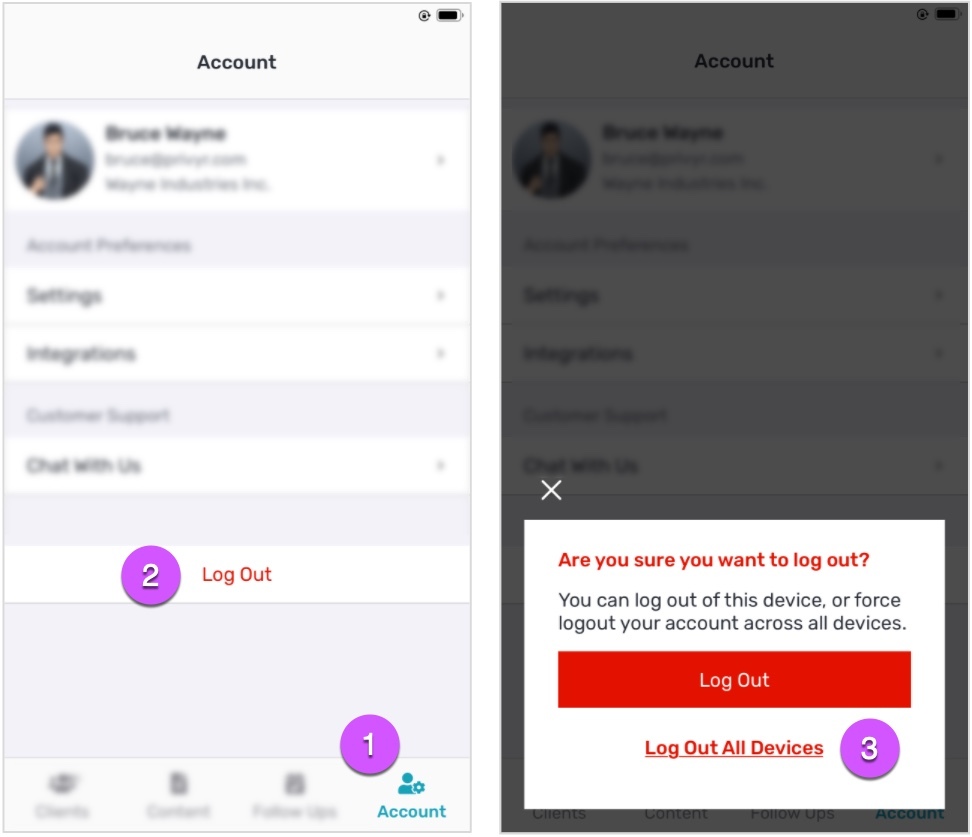 To force logout all devices, go to your Account tab and tap on Log Out, then Log Out All Devices.
You'll be immediately logged out of your account everywhere, and can proceed to log back in on the device(s) you want to retain access on.
Note that this is a feature that is available only on app versions 2.6.1 or newer.