Introduction
Privyr's referral program lets you invite your friends to give them free credits, in addition to the free trial. You'll also earn referral credits when they subscribe*.
There's no limit on the number of referrals, so you can invite, give credits, and earn rewards for all of your friends!
Referring Friends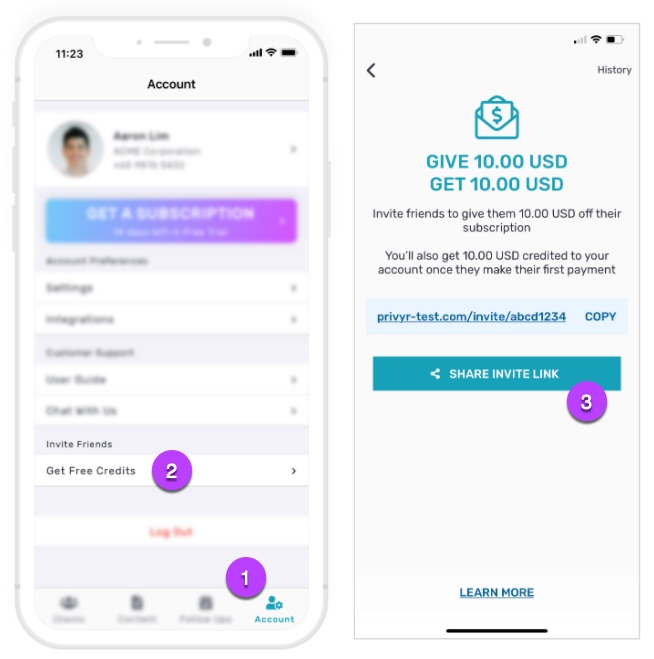 You can send your friends an invitation to create a Privyr account via the following steps:
Go to your Account tab in the Privyr app
Click on Get Free Credits
Tap on SHARE INVITE LINK and select the app and recipients to share the invitation with
That's it! All accounts created via your invitation link will be automatically credited with the stated referral amount and be tracked in your referral history.
Referral History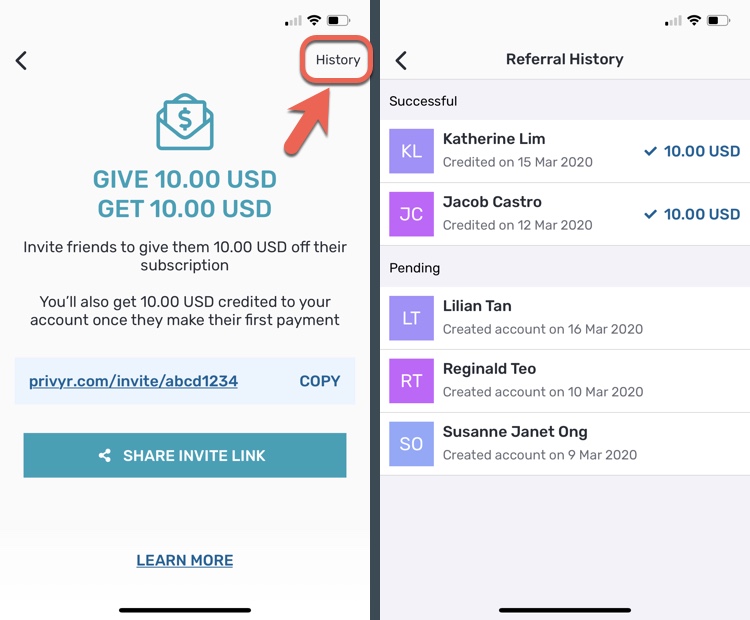 The Referral History screen will show all of your referrals, split into two groups:
All Privyr accounts created via your invitation link will appear under your Referral History, which can be accessed via the History button on your referral screen.
Successful referrals which have subscribed and rewarded your account with referral credits
Pending referrals which have created an account, but haven't subscribed or made their first payment yet
Referrals will automatically move from pending to successful state once they make their first subscription payment*.
Earning Reward Credits

Your account will be automatically credited once one of your referrals subscribes to Privyr and makes their first subscription payment*. You'll also get an alert via the Privyr app, and can view the latest status under your Referral History.
There's no cap on the amount of referral credits you can earn, so you can continue referring and getting rewarded for as long as you like. See the full Terms & Conditions below.
Using Reward Credits
Your referral credits will be automatically applied to offset your subscription payments, and will be carried over to the next payment(s) if you have more credits than your payment amount. There's no expiration of your credits.
You can check your available credits on your Subscription page. Any credits remaining will be displayed in the Available Credits section above your Billing Details. If you don't see this section, you don't have any available credits to use.
Your billing invoices will contain a breakdown of the credits used to offset each bill, if any. These invoices are sent to your registered email address every month or year on your billing date, depending on your billing cycle.
Terms and Conditions
For the avoidance of doubt, your account will only receive referral credits once ALL of the following conditions are met:
The referred user must have used your invitation link to create their account. You can verify this by ensuring they appear in your Referral History
The referred user must have subscribed to Privyr, on either the monthly or annual plan
The referred user must have made their first subscription payment to Privyr, which only occurs at the end of their free trial
Privyr reserves the right to change these terms and conditions at any time without prior notice. Privyr also reserves the right to block and/or cancel rewards for select users in the case of exploitation or misuse.